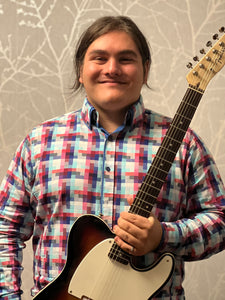 Thomas Morin
My name is Thomas Morin. I'm a bilingual (French/English) Ottawa musician and a graduate from the Music Industry Arts program at Algonquin College. I've been playing and writing music since I was just 9 years old; starting first on piano, and moving on to voice, guitar, bass, and most recently, drums.
My teaching style is influenced by my own music teacher, Roxanne Goodman, who taught me to focus on the individual, what they want to learn and what drives them to pick up their instrument; all of this whilst still ensuring the student grows in their theoretical and technical knowledge. I have learnt to be a passionate player and dedicated musician and I can help foster these values in my students.
Outside of teaching, I am a local audio engineer. I record, mix, master and produce live and studio music for local bands. I also perform locally in multiple bands and as my own solo act, Phayth. This gives me an understanding of music and artistry, from not only the perspective of the artist, but also from the technical perspective. Using my thorough knowledge of the industry, I am able to ensure confidence in students by preparing them for all their music goals.